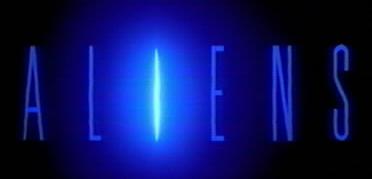 Cast/Crew
Directed by
James Cameron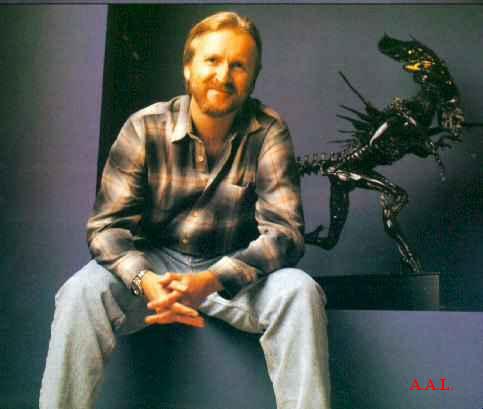 Writing credits
James Cameron (also story)
David Giler (story)
Walter Hill (story)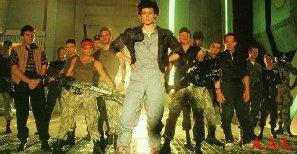 Cast (in credits order) verified as complete
Sigourney Weaver .... Ellen Ripley
Ripley is the iron-willed women that embarks

on the excursion to LV-426 in order to end

recurring nightmares of her past.
Carrie Henn .... Rebecca "Newt" Jorden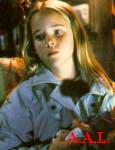 Rebecca Jordan, often referred to as, "Newt," is the only

colonist to survive the aliens massacre on LV-426. She

forms a distinct mother-daughter relationship with Ripley.
Michael Biehn .... Corporal Dwayne Hicks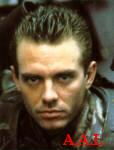 Corporal Dwayne Hicks is the only marine to survive the

aliens massacre on LV-426. He is tough, but knows 'when

to kick the hell out of there.'

Paul Reiser .... Carter J. Burke
Burke is the evil company man with a mind
set on money. Burke appears to be nice at
first, but just wants to smuggle aliens out of
LV-426 for the Bio-Weapons Division.
Lance Henriksen .... Bishop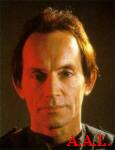 Bishop (who in fact is an android) helps the

remaining marines to escape the nuclear

devastation of LV-426.
Bill Paxton .... Private Hudson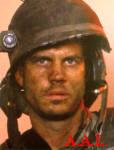 Bill Paxton plays Hudson, the paranoid ass-

kicking marine. Hudson does a great job

with providing comic relief.
William Hope .... Lieutenant Gorman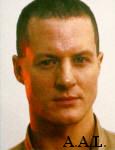 Lieutenant to the marines, but chicken at heart, Gorman

is incompetent when it comes to combat.
Jenette Goldstein .... Private Vasquez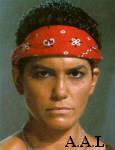 Vasquez is one of the more 'hard-ass' marines. She

wants to kill every alien she can.
Al Matthews .... Sergeant Apone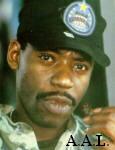 Mark Rolston .... Private Drake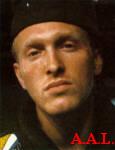 Ricco Ross .... Private Frost
Colette Hiller .... Corporal Ferro
Daniel Kash .... Private Spunkmeyer
Cynthia Scott .... Corporal Dietrich
Tip Tipping .... Private Crowe
Trevor Steedman .... Private Wierzbowski
Paul Maxwell .... Van Leuwen
Valerie Colgan .... ECA Rep
Alan Polonsky .... Insurance Man
Alibe Parsons .... Med Tech
Blain Fairman .... Doctor
Barbara Coles .... Cocooned Woman
Carl Toop .... Alien Warrior
John Lees .... Power Loader Operator
Louise Head .... Double for Newt
Kiran Shah .... Double for Newt
rest of cast listed alphabetically
Billy Armstrong .... Lydecker (special edition)
Jay Benedict .... Russ Jorden, Newt's father (special edition)
Holly De Jong .... Ann Jorden, Newt's mother (special edition)
Christopher Henn .... Timmy Jorden, Newt's brother (special edition)
Mac McDonald .... Colony Officer Simpson (special edition only)
Produced by
Gordon Carroll (executive)
David Giler (executive)
Walter Hill (executive)
Gale Anne Hurd
Original music by
James Horner
Additional music by
Jerry Goldsmith (from "Alien (1979)") (uncredited)
Aram Khachaturyan (from "Ballet Suite Gayaneh") (uncredited)
Cinematography by
Adrian Biddle
Film Editing by
Ray Lovejoy
Casting
Jane Feinberg
Mike Fenton
Mary Selway
Judy Taylor
Production Design by
Peter Lamont
Art Direction
Ken Court
Bert Davey
Fred Hole
Michael Lamont
Set Decoration
Crispian Sallis
Costume Design by
Emma Porteus
Make-up Department
Elaine Bowerbank .... hair stylist
Everett Burrell .... special make-up effects artist
Peter Robb-King .... make-up artist
Production Management
Mo Coppitters .... production manager
Gil Whelan .... production manager
Assistant Director
Derek Cracknell .... assistant director
Melvin Lino .... second assistant director
Sound Department
Chris Blunden .... assistant sound editor
Scott Brose .... sound editor
Roy Charman .... sound
Dev Goodman .... sound editor
Peter Horrocks .... sound editor
Jack T. Knight .... sound editor
Alan Paley .... sound editor
Don Sharpe .... supervising sound editor
Otto Snel .... sound re-recording mixer
Eric Tomlinson .... sound re-recordist
Special Effects
Leslie Dear .... visual effects photographer
Brian Johnson (I) .... visual effects supervisor
Harry Oakes (I) .... visual effects photographer
John Richardson (II) .... special effects supervisor
Charles Staffell .... process photographer
Stunts
Elanor Bertram .... stunts
Simon Crane .... stunts
Sue Crosland .... stunts
Steve Dert .... stunts
Stuart Fell .... stunts
Jazzer Jeyes .... stunts
Sean McCabe .... stunts
Eddie Powell .... stunts
Stuart St. Paul .... stunts
Malcolm Weaver .... stunts
Chris Webb (I) .... stunts
Dill Weston .... stunts
Paul Weston (II) .... stunt co-ordinator
Jason White .... stunts
Other crew
Terry Ackland-Snow .... supervising art director
Steven Begg .... model effects
James Cameron .... queen alien design
Pete Cavaciuti .... steadicam operator (uncredited)
Alan Church .... optical camera operator (uncredited)
Robin Clarke .... music editor
Michael Clifford (I) .... music editor
Michael Condro .... first assistant camera
Diana Dill (I) .... script supervisor
H.R. Giger .... original alien designer
Simon Harris .... second assistant editor
Paul Kenward .... focus puller
Archie Ludski .... dialogue editor
Greig McRitchie .... orchestrator
Tiny Nicholls .... costumer
Shaun O'Dell .... camera operator
Jan Pester .... steadicam operator (uncredited)
Phil Sanderson .... assistant editor
Brian Smithies .... miniature effects supervisor
Ian Underwood .... synthesizer effects
Stan Winston .... alien effects
David Worley .... camera operator
Remember I worked very hard capturing all of these pictures myself, so before you think about taking them just send me an e-mail, and we can work something out. Thanks-